On the outskirts of Conway, AR is Finton Shaw's (1946-2012) orphaned sculpture garden. Shaw was a welder, and after a heart attack, he devoted more time to art and sculpture, erecting several abstract objects from scrap metal on his company grounds.
He also worked on representational sculptures, such as a Bill Clinton monument1 that still stands as a skeleton in front of the abandoned workshop or the sculpture "Cosmic Love", a naked woman with a giant penis between her legs.
Judging by old paintings, sex was definitively a theme for Shaw.
His vision was for Conway to become an art mecca, and there are several artists living in the surrounding area who would have formed the beginning.
Whether Conway will yet become an art mecca is doubtful. Shawn's grounds and the remaining sculptures are waist high, overgrown with grass and shrubs.
Interestingly, we were able to recover the "Cosmic Love" sculpture lying in the grass. According to the artist's old, deleted website2, it was worth $5000 USD. Now it was lying there in the grass and decaying.
We straightened it up and who knows, maybe someone will save it. Fascinating site, even though sadly, everything is at the mercy of decay.
In the following Google Streetview images, you can still see the garden in its full glory. In 2013, the Clinton sculpture still had a head. By 2014, it was gone.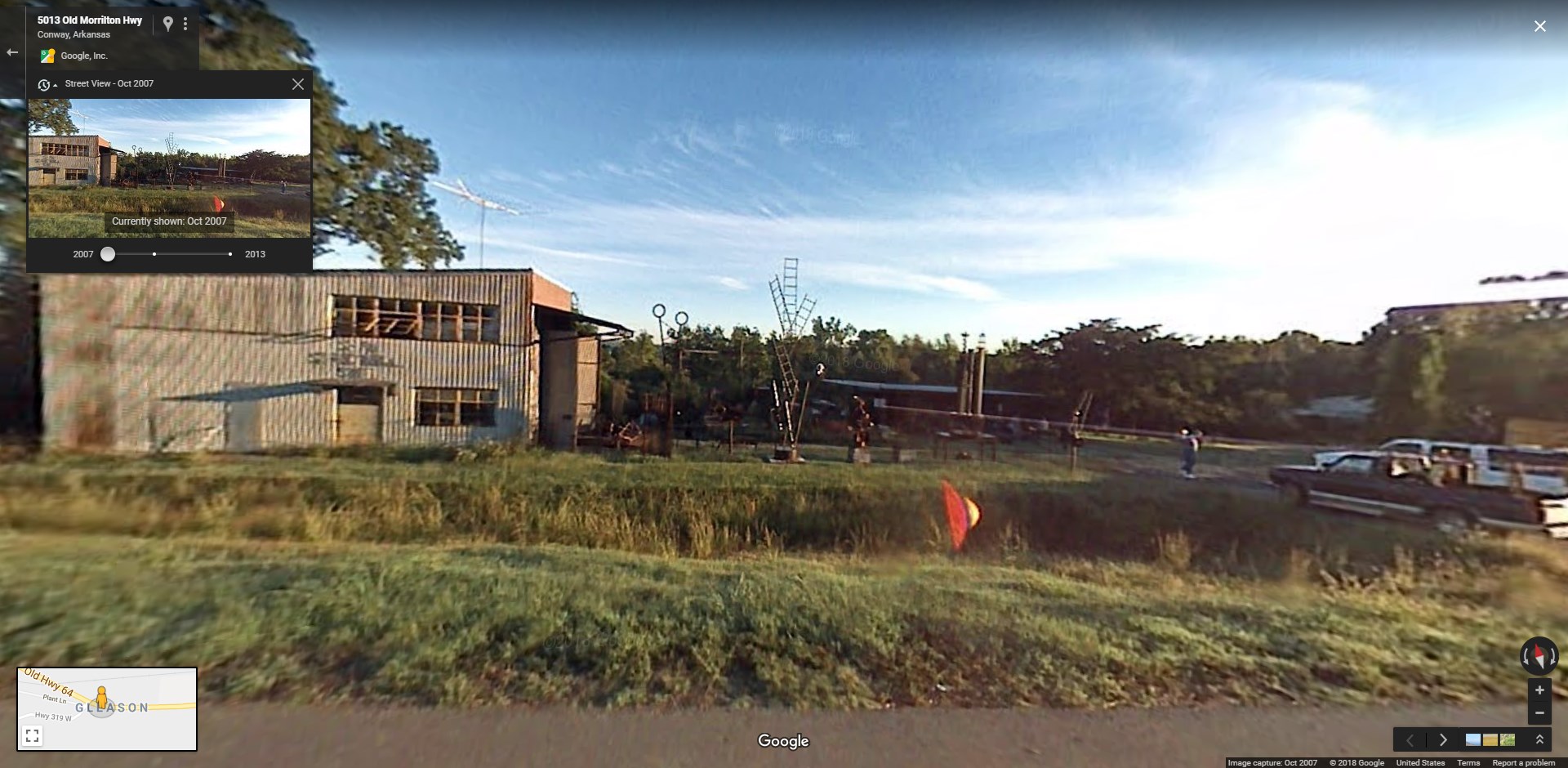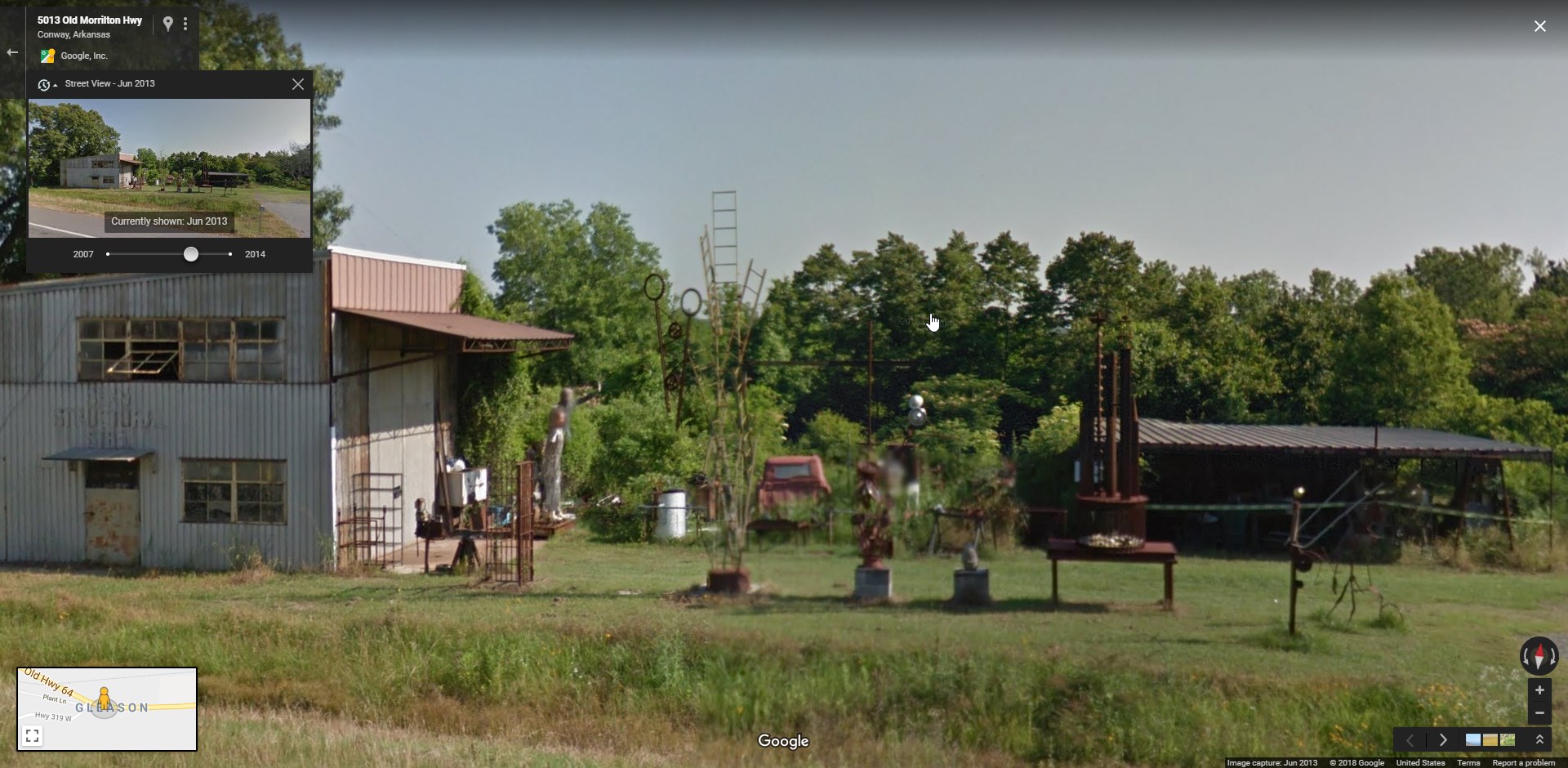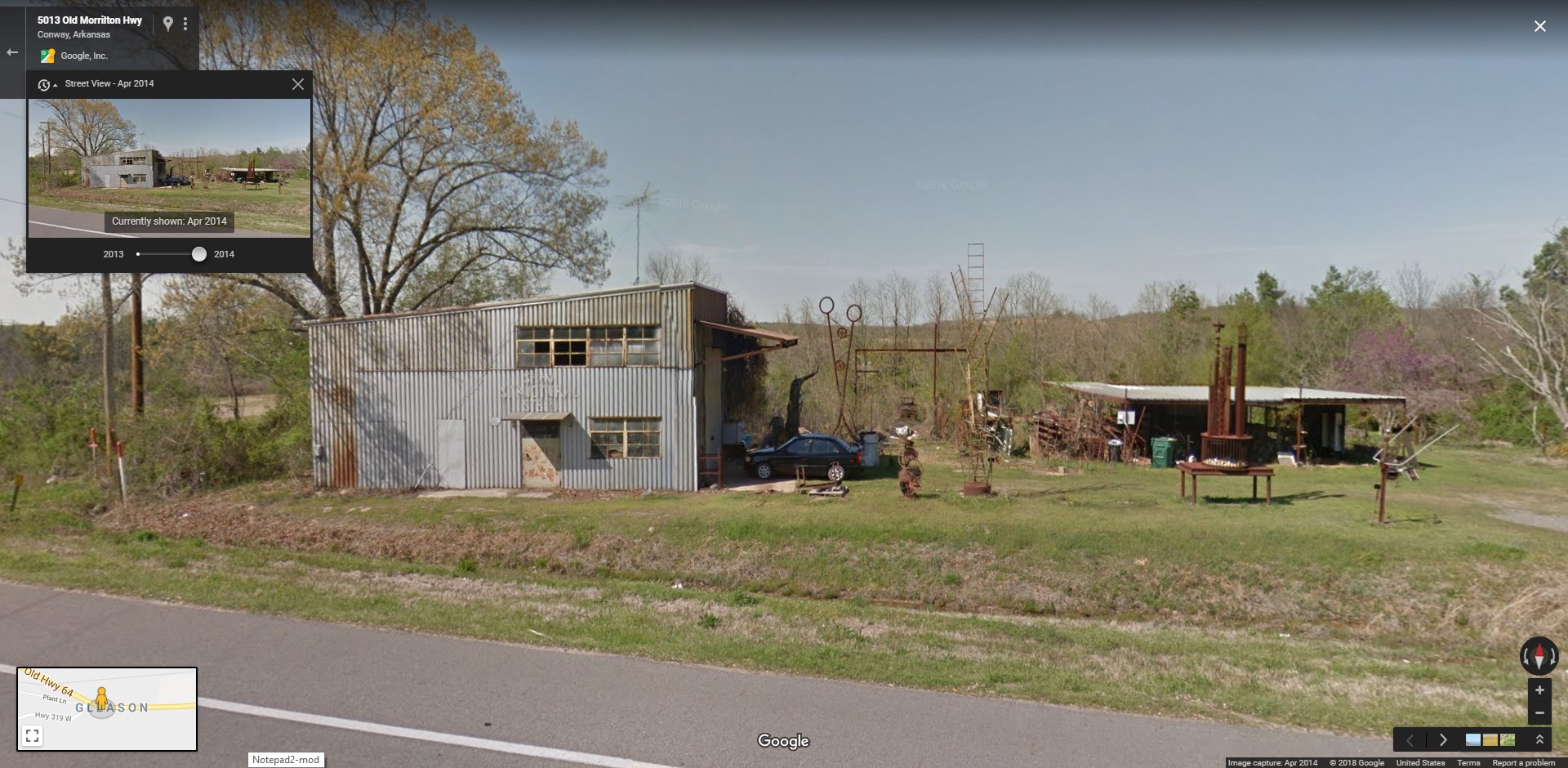 In 2001, Finton Shaw was portrayed in the television series "Rare Visions and Roadside Revelations."
For now, you can still watch the show here. https://www.pbs.org/video/beaver-arkansas-to-stuggart-arkansas-9dbmdx/ Finton Shaw's segment starts from minute 13.
Update 2019-04-18
Unfortunately, the sculpture "Cosmic Love" has been damaged. The face and the phallus were destroyed (definitely the work of someone with so-called "small-dick energy" who abused her.
Update 2022-01-18
At the end of December 2021 or beginning of January 2022, the workshop and an adjacent warehouse burned down. The cause of the fire is still unknown to me.
Links
---
geschrieben von
Outsider
Art
USA
Landmark
Roadside
Attraction